ARCHITEAM MEMBER PROFILES

Lunchbox Architect Brodie Norris is our newest contributor, providing us with member profiles - meet some of our members and find out more about the benefits of working with a skilled professional when building your new home or renovating your existing property.
Written by Brodie Norris from Lunchbox Archimedia.
Brodie is currently working on Archifinder, a matchmaking service to connect clients and architects: find out more!
---
Building a sole practice (and some of your first projects)
Eliza Blair Architecture
This month, as Eliza Blair Architecture celebrates the completion of some of its first projects, I chat to Eliza about what led her to pursue sole practice and some of the learning curves along the way... Read more...
The Power of a Hands-on Approach to Architecture & Practice. Mani Architecture
In Italian, 'mani' means hands. Fittingly, it's a hands-on approach and the power of hand-made objects that drive ArchiTeam members Sara Tonini and René Nguyen of Mani Architecture.
In Italian, 'mani' means hands. So when Sara Tonini and her business partner at the time started Mani Architecture at the end of 2013, their intention was to create a hands-on residential-focused practice that values the art of craftsmanship. AKA #ManiMade. Read more...

Regional practice with Moloney Architects
Mick and Jules Moloney met at university; an architecture school love-story, their relationship forged over all-nighters in the studio. Continuing a grand history of successful husband-and-wife teams in architecture, they went on to co-found Moloney Architects in 2007.
The decision to start their own practice came from a competition for the Australian Peacekeeping Memorial in Canberra. Read more...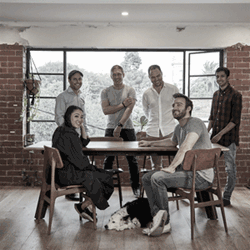 On the joy of seeing the tangible outcome of what you visualised with Christopher from Megowan Architectural
When Christopher Megowan's face popped up on my screen, we had that strange realisation that, while we'd enjoyed years of friendly email banter, we'd never actually met. That wasn't about to change thanks to Melbourne's stage 4 restrictions, but at least we were now able to put a face to the email signature: thanks, Zoom. Read more...